| | |
| --- | --- |
| | |




MONZA INTERATTIVA
THE PROJECT


During the course of 2006 interactive and digital art has been the guideline for the study and setting up of a complex project that has seen Monza closely involved in exhibitions held in various locations and occasions for in-depth discussions. Through meetings, press presentations and shows with different kinds of critical and methodological slant, the aim has been to attract an ever- growing public both locally and further afield.
Undoubtedly the artistic phenomenon linked with the experiences born from digital, right up to the most aggressive line of art game, thus of the artists that use the same scenes of videogames as a field of experimentation, manipulation and creativity opens up privileged dialogues with a young public, with which it shares the same language and technology.
Besides, interactivity has now become part of everyday life for all of us, and its artistic expression winds transversely through different sensibilities and ages, as will be seen in the exhibitions planned.
The exhibition devoted to the work of Mario Canali 'L'arcipelago di Ulisse' (Arengario 16 March -14 May), pioneering interpreter of artistic research into virtual reality, started off this "journey" through interactive art.
The installation created for Monza by Studio Azzurro, and shown here for the first time, with the title
La Pozzanghera-Micropaesaggio interattivo (Arengario 21 October – 30 November) , a video-projection dedicated especially to children, provides an important landmark in reflections on the relationship between games, art and technology.
It is indeed the stimulating intertwining that binds these three elements together that is at the basis of the choice to dedicate to the art-game – in the period when the finals of the World Cyber-Games championship will be held at the Racing Circuit – the exhibition GameScapes Videogame Landscapes and Cities in the works of five International Artists (Galleria Civica 13 – 29 October) : Cory Arcangel, Mauro Ceolin, John Haddock, Eddo Stern, Carlo Zanni are the artists invited who have re-interpreted in their works the scenes and cityscapes of video-games.
Taking part in this journey of reflection on interactive and digital art, the publishers Johan & Levi will publish the bi-lingual volume by Matteo Bittanti and Domenico Quaranta GameScenes dedicated to the relationship between art and video-game to be presented in Monza in the autumn.
Before year's end the task of tracing the state of the art through this journey will be entrusted to a meeting involving speakers from different subject areas, when the stages will be mapped out of a project that sees Monza putting itself forward as one of the places to meet and investigate the complex, potentially fabulously rich intertwining that binds games, art and technology together.


Poster of the exhibition La Pozzanghera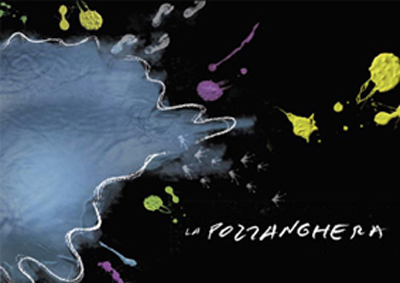 Poster of the exhibition L'arcipelago di Ulisse