| | |
| --- | --- |
| | |



ADRIANO BERNAREGGI MUSEUM, DIOCESE OF BERGAMO
THE STRATEGIES


What was avoided in the Adriano Bernareggi Museum was the risk of treating objects as decontextualised material, exhibited just because they were "beautiful" or "precious", on show because they had historical significance in the story of an artist's development. On the contrary, it was intended that the history of the place be appreciated, indissolubly woven as it is in those objects: the history of a religion, liturgical apparatus created for and by means of a community; the history of a society and area that partly through that very apparatus has communicated and displayed its own faith, knowledge and pride.
Using this means of setting up the exhibition, Rosanna Pavoni involved private collectors, who have donated important collections to the museum.
The exhibiting strategies and identity of the museum are introduced in the Museum's first bi-lingual publication: Delectare, Docere, Movere. Linee teoriche e museologia del Museo Adriano Bernareggi of Bergamo, edited by Cesare Mozzarelli and Rosanna Pavoni.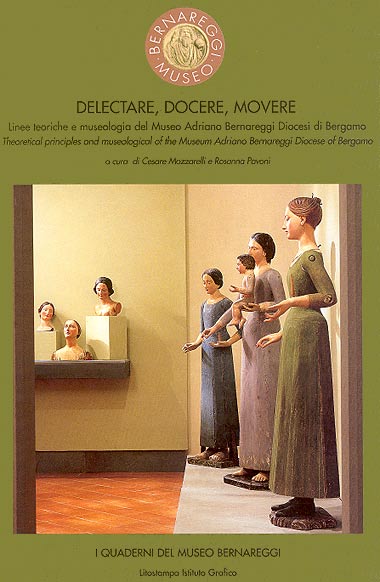 The exhibition layout emphasised the choice of displaying the materials along two important guidelines: the series aspect and the exceptional nature of the display. In this way less importance was given to chronological criteria in positioning the objects in the rooms, but the arrangement was more in keeping with the rhythm of the liturgical year.



T E S T O
LITURGIA, PIETA' POPOLARE E TERRITORIO. PROBLEMI DI CONTESTUALIZZAZIONE MUSEOGRAFICA